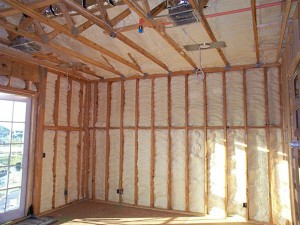 Knowing how much house insulation you need is essential in keeping cool in Florida. As a general rule, the more you have, the better. Just because you live in a warm climate doesn't mean you need less insulation than if you lived in Minnesota. The building codes require less insulation, but if you insulate as you would in Minnesota, you can reduce your energy bill and be more comfortable!
Another key to cool living in Florida is to insulate the floor of a new home. To achieve an R-Value of 24, you'll need at least three inches of closed-cell foam. And, if there's a concrete slab on the ground, you'll still need house insulation under it.
Before pouring the concrete floor, you may even want to consider installing radiant floor heating. Sure, we don't need a lot of heating here in Florida, but if you like your home warmer, it's one of the best heating methods – even if you only use it for a few months of the year. Putting in the tubing during construction is not expensive. You can then wait to add the expensive part (heat source) until a later date when you can afford it. When, and if, you do put your home on the market, radiant heating is a great selling point.
At Polk County Insulation, we have been providing house insulation services for the last 30 years in the Lakeland/Winter Haven areas. Whatever your needs are, we've got you covered!